Revolutionising Scrap Metal Payments: Introducing Bread4Scrap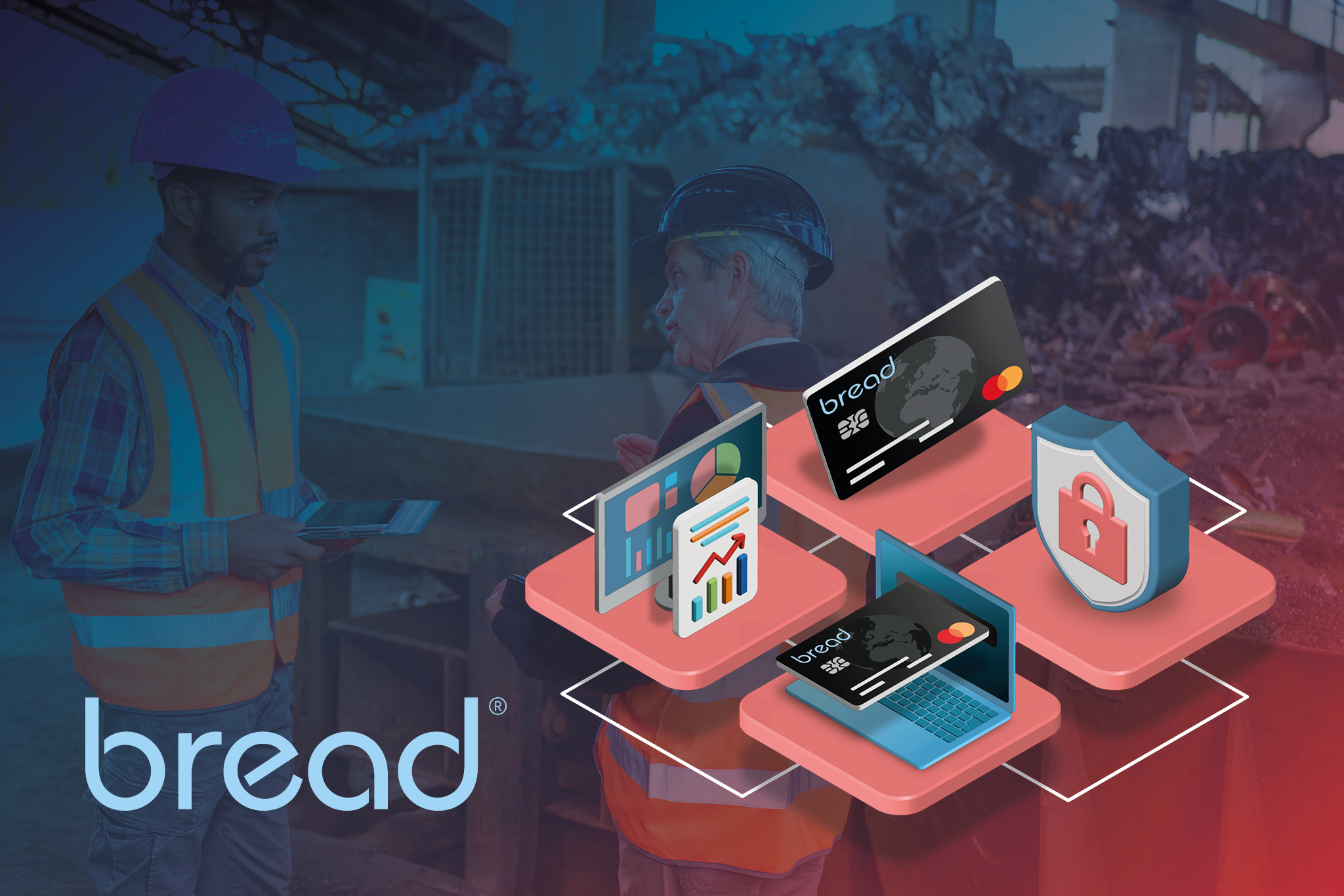 The scrap metal industry, a vital cog in the manufacturing and recycling sectors, has seen significant changes in recent years. One critical transformation is the shift towards cashless payments. This pivotal change, enhancing transparency, increasing security, and improving regulatory compliance, propelled the industry into the modern era.
Enter Bread4Scrap, a revolutionary solution that offers a modern, compliant, and efficient payment method for scrap metal transactions. The platform heralds a new era in the scrap metal industry, offering a modern, compliant, and efficient method for managing scrap metal transactions. But Bread4Scrap is not just a payment solution. It's a comprehensive system that addresses multiple areas of scrap metal operations, making it an invaluable tool for businesses seeking to streamline their processes and boost their performance.
In this article, we delve into the features, benefits, and workings of Bread4Scrap. We explore how it enhances various roles within the industry, compliance with Home Office regulations, seamless integration with other management platforms like FRED5, and the platform's transparent pricing structure.
Bread4Scrap: Smart and Secure Scrap Metal Payments
Bread4Scrap is an innovative payment solution trusted by hundreds of scrap metal and recycling yards across the UK, helping to streamline their operations and optimise their performance. Brought to you by B4B Payments and leaning on 17 years of experience in the payments industry, Bread4Scrap offers two easy options for fast, secure scrap payments.
Using a secure, simple, and cashless system, Bread4Scrap refines the transaction process for both buyers and sellers of scrap metal, offering several benefits to different roles within the scrap ecosystem.
For Managing Directors, it ensures compliance with financial regulations, provides transparency, and streamlines processes, ultimately enabling better decision-making.
Yard Managers benefit from a user-friendly interface, real-time updates on payment statuses, and reduced paperwork.
Depot Managers can efficiently manage payments, automate workflows, and gain enhanced visibility into payment activities across multiple locations.
Finance Managers experience financial accuracy, improved cash flow, seamless integration with existing systems, and enhanced reporting capabilities.
Multiple Payment Methods for Convenience and Flexibility
Distinguishing itself with smart and flexible payment options, Bread4Scrap enhances user convenience by allowing prepaid card and business payments through its straightforward payment platform. With full compliance with Home Office regulations and no hidden fees, it ensures a smooth and efficient payment process.
Bread4Scrap allows users to load funds onto prepaid Mastercards, enabling customers to withdraw cash from ATMs or spend globally. The flexibility and convenience of prepaid cards position them as an attractive payment method. Simultaneously, businesses can make direct transfers into customers' bank accounts, promising lower transaction costs and thus yield substantial savings compared to traditional banking methods.
Transparent Pricing: Eliminating Hidden Costs
Transparency is key with Bread4Scrap. The pricing structure is clear, eliminating surprise costs.
For scrap yards, each card costs £6.50, requiring a minimum order of 100 cards without additional setup or loading fees. Cardholders incur a 2% transaction fee (min £0.20, max £1.50), a £1.50 ATM withdrawal fee, and a £1k total daily withdrawal limit.
The cost of business payments is both competitive and transparent. Faster Payments/SEPA cost 35p, Swift Payments £10, while foreign exchange transactions are marked up by a mere 1%.
How Does Bread4Scrap Work?
It's easy to start with Bread4Scrap, with three short steps to complete before funds are ready to spend: sign up, add customers, and load funds.
Bread4Scrap ensures a seamless user experience. After signing up, security checks are conducted, and a comprehensive management platform is created for straightforward card and business payments. Prepaid cards are shipped ready for customer distribution.

Customer details are captured, and Know Your Customer (KYC) checks are run through a secure management portal. Customers receive a card pack containing a prepaid card and PIN. The management portal can instantly load cards 24/7 or make direct bank payments with swift processing times and low fees. Customer notification of fund loading is sent via text or email, and they can manage their accounts through the cardholder portal. Cards can be reloaded repeatedly, enabling customers to make recurring transactions and continue using the service.
To sign up, simply visit Bread4Scrap and punch in your details. From here, we can run through our security checks and start your payment journey.
Opting for Bread4Scrap: An Intelligent Decision
Bread4Scrap presents the capability to issue cards to customers, catering to underbanked individuals. With over 17 years of experience in the payments industry, B4B Payments ensures a reliable and efficient service. Payments can be made within minutes, and card delivery to scrap yard sites is typically completed within two days upon dispatch.
The system's full compliance with Home Office regulations and secure portal for payment tracking make it a trustworthy solution. Opting for Bread4Scrap not only offers modernised payment methods but also signifies a move towards a safer, more efficient, and regulatory-compliant business operation.
Discover the Potential of Bread4Scrap
Bread4Scrap stands poised to revolutionise the scrap metal industry with our innovative, reliable, and compliant payment solutions. If you don't want to get left behind – find out more about Bread4Scrap and explore what it can offer your business.